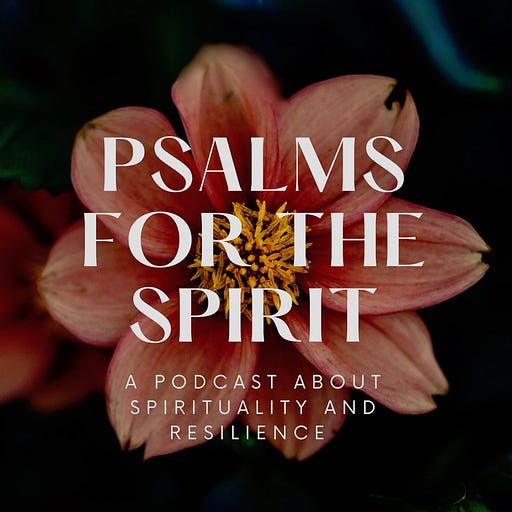 Mar 14, 2021 • 53M
Ep. 7 Shepherding through the Rugged Terrain of the Valley, with Kate Wiebe
This podcast looks at the connections between spirituality and resilience through the lens of the Biblical Psalms. It explores how the Psalms help people through difficult times – times of personal and collective trauma – through conversations about personal story, field research, and theological reflection from a variety of backgrounds and perspectives. Listeners might include clergy, seminarians, spiritual directors, hymnwriters, church musicians, mental health practitioners, anyone interested in the intersection between spirituality and lived experience.
Today's guest is Kate Wiebe, founder of the Institute for Collective Trauma and Growth. We both entered seminary only days after 9/11, an event that influenced many of us as we began our theological studies not far away from the areas that had been traumatized by those events. It wasn't until years after we'd graduated that I found out that she'd gone on to do doctoral work on how people come through times of crisis, and that her studies led to the founding of ICTG, an organization focused on helping groups respond to large scale crises such as natural disasters and acts of mass violence, as well as more private crises that devastate smaller communities. In our conversation, Kate and I explore how spirituality and the Psalms weave into her life's work of being a guide for people through the rugged terrain of the valley of the shadow of death.  
This episode contains references to numerous traumatic incidents, so please keep your triggers in mind, either by having proper supports in place or by listening to a previous episode instead – I'd recommend episode 2 which offers lots of practical tips on building resilience in day to day life. 
I can't imagine a gentler guide through life's rough paths than Kate, and I'm sure you'll learn so much from the wisdom she shares, as I did when we talked. 
Kate mentions a chart on her website - you can find that here
Celtic Psalms (Kiran Young Wimberly & the McGraths) music can be found on iTunes, Spotify, Amazon, YouTube 
Celtic Psalms songs featured in this episode:
Save Me O God (Psalm 69/The Streets of Derry)
The God of Jacob (Psalm 42/The Dawning of the Day)
The Lord is My Shepherd (Psalm 23/The Parting Glass)
Come Spirit Come (Psalm 144/The King's Shilling)
More about Kate Wiebe:
Rev Dr Kate Wiebe is a pastor in the Presbytery of Santa Barbara, CA, a telehealth counselor at La Vie Centers in Pasadena, and a volunteer with the Institute for Collective Trauma & Growth, which she founded in 2012. 
Over the last two years, Wiebe has found herself increasingly drawn to follow the research and invest time and energy more locally. She supports the development of local resources among individuals, families, and groups to become refreshed and to thrive amid adversity, especially through counseling, mentoring, and encouraging congregational ministries. As time allows, she continues to offer national and international subject matter expertise and consulting on disaster response and organizational restoration after crises. Her most treasured time is with her family, including her husband and four children.